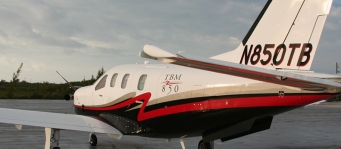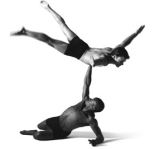 Over the years I've had the opportunity to attend a number of incredible airport hanger parties with various companies including Cessna Citation Jets, Cirrus Aircraft, Ferrari and many others…  Each of these were great events, but tonight's hanger party takes the cake hands down!  I went to the unveiling party for the Socata TBM850 aircraft (https://www.tbm850.com/) as it arrived for the first time in the United States from France.   The event took place in a beautiful new hanger at Showalter Flying Service in Orlando, Florida.
Headed to the airport, I expected a quick visit to see the new plane and an early night back home.  My expectations were blown out of the water as I walked in to find the acrobatic group Anti-Gravity (https://www.anti-gravity.com/) dangling from the ceiling and bouncing around the stage.  I was blown away by their incredible performance and the amount of skill and strength these athletes possess.  I think what surprised me the most is how they were able to do such an elaborate performance in an aircraft hanger as opposed to performing in a venue designed for that purpose.  If you ever have the opportunity to see them in person, I'm quite sure you'll agree this is one of the most incredible acts you will ever witness.
The hanger itself was set up like a high end nightclub – pristine white leather couches, live music, multiple bars – everything was done absolutely perfectly!  Aside from all the hanger-talk with a building full of pilots and aircraft owners, you'd almost never know we were there for an aircraft event at all.  After several hours of entertainment and great conversation, the 'main event' was ready to take place.  The President of Socata gave a quick speech, followed by fireworks launching into the sky as two brand new TBM850's rolled up on the tarmac.  These are incredible aircraft that combine speed, comfort and technology.  I got to sit in the cockpit and play with the avionics which were equally as impressive as the rest of the specs on the plane.  To top it off, this is just plain a fantastic looking aircraft!
My hat is off to Socata and Showalter Flying Service for putting on what is undoubtably the best hanger party I've ever attended.  So many times companies miss the mark and have events to try to give you a sales pitch to buy their product.  Instead, these companies just put on an amazing event that people will talk about for years to come – and share with others as I've done here.  This is undoutably how you do a launch party right!