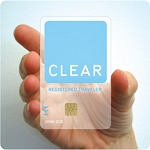 As many of you know, I typically fly myself on business trips throughout the country in my own plane.  There are however occassions that I have to take commercial airline flights, especially when I fly out to the west coast.
I've recently signed up for the Clear Registered Traveler airport security card (www.FlyClear.com).  This is a program that costs $128 per year and allows you to bypass the airport security lines since you are pre-screened by the TSA.  You'll still need to go through the metal detector, but the days of arriving at the airport to find yourself waiting in a long airport security line are over.  To me, for just over $10 a month it's well worth it for this added convenience.  The application process is very quick to do online then just takes a few minutes at a Fly Clear enrollment center at the airport to take your fingerprints and iris scan.
If you're interested in signing up for the FlyClear airport security card, just visit www.FlyClear.com.  During the enrollment process, you'll see a box that asks for a Discount Code.
Here's my Clear Airport Security Card Discount Code:
DSCAM1158732
This discount code will get you a free extra month of membership in the FlyClear program.  It will also get me another free month of membership.  It's a win-win for both of us!
In case you're wondering, the Fly Clear Registered Traveler Card can be used at the following locations to bypass airport security lines:  Albany (ALB) – Cincinnati (CVG) – DC Dulles (IAD) – DC Reagan (DCA) – Denver (DEN) – Indianapolis (IND) – Jacksonville (JAX) – Little Rock (LIT) – New York (JFK) – New York (LGA) – Newark (EWR) – Oakland (OAK) – Orlando (MCO) – Reno (RNO) – San Francisco (SFO) – San Jose (SJC) – Westchester (HPN)
Happy Travels!