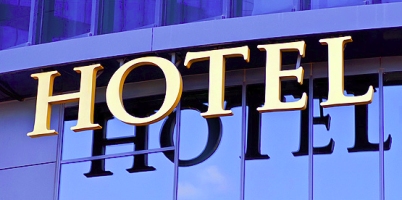 I've literally stayed thousands of nights in hundreds of hotels over the years in my travels throughout the world.  I've visited every state and have had many fantastic experiences at all of the major high-end hotel chains.  That's not what this guide is all about though.  Instead, I'd like to share my guide to the best unique hotels in America.  Many of these properties are smaller with a cozy feel – some are modern – some are historic – but they're all fantastic.
The James (Chicago, IL) – I've got to start my list with The James.  It's simply the best of the best.  Located right in downtown Chicago near North Michigan Avenue, The James offers a personal experience like no other.  It has a hip and modern feel and a staff who's second to none.  Many of the staff members have been there for years – don't be surprised if they begin calling you by name after a visit or two.  The recent expansion of their bar area provides a great lounge environment for relaxing.  You can walk everywhere in the city from this centrally located property and the concierge is always quick to offer great suggestions for nearby restaurants.  If you'd rather stay in, David Burke's steakhouse is located right inside the hotel.  It's arguably one of the best steak houses in Chicago.  There's no close second place, when I visit The James, "I'm home".
Hotel Valley Ho (Scottsdale, AZ) – A funky retro style hotel that takes you back to the days of staying in a motor lodge with a fun twist.  The decor is lively and energetic.  The pool and bar areas get crowded on weekends which drives a great vibe that flows throughout the property.  Downtown Scottsdale is filled with art and entertainment and is accessible via a short golf cart ride.  The outdoor fire pit area is a great spot to spend the night chatting with new and old friends alike.
The Broadmoor (Colorado Springs, CO) – A trip to Colorado isn't complete without a visit to the historic Broadmoor.  This property has two distinct types of rooms on opposing sides of the beautiful lake.  On one side, you've got very elegant traditional rooms.  On the other side, you've got modern rooms, yet they retain a sense of class and sophistication from old world times.  Outdoors there are numerous fire pits which always attract a crowd in the evening as you breath in the fresh Colorado are from the nearby mountains.  The views as you walk around the property are gorgeous.  Everything about the Broadmoor is simply perfect.
Hotel Valencia (San Antonio, TX) – Located right on the Riverwalk in downtown San Antonio, the Hotel Valencia is a splash of modern vibrancy in the heart of a historic city.  If you're hungry for a bite to eat, the Acenar Restaurant is located right next door which has some of the best Tex-Mex food you'll ever eat.  The rooms are large with very modern amenities and the location is fantastic.  You can walk everywhere that you'd like to go in the city from this centrally located property.
Travassa (Austin, TX) – If you're in the mood to really relax and unwind there's absolutely no hotel on my list that's any better to visit than Travassa in Austin.  It's a very outdoorsy type of property with most meals and resort activities happening outside in the sunshine or under the moonlight.  There are dirt walking trails between each of the buildings on the property which really make you feel like you're having a nature experience versus staying at a hotel.  Relaxation and fresh air are always in plentiful supply every day at Travassa.
Palomar (Dallas, TX) – I found this gem nestled at a busy intersection in Dallas. This hotel is sleek, ultra modern and the service is top notch. The location is great for hopping onto the major highways and plenty of restaurants and nightlife are just a short cab ride away.  In a city that resembles a concrete jungle, this property was a great find after I was tired of a long string of nights staying in big chain hotels.
21C Museum Hotel (Louisville, KY) – It's a museum – it's a hotel – no, it's BOTH.  This hotel is unique even on a list of unique hotels.  Who would have ever guessed that combining a museum with a hotel would be a winning combination?  Certainly not me… boy, was I wrong.  While there's a full traditional museum downstairs, every hallway and room also serves as an art gallery.  There's so much to see it's hard to take it all in during one single visit.  Certainly the most visually stimulating experience one could ever have staying at a hotel.
U.S. Grant (San Diego, CA) – This property is ultra historic and is located in the Gaslamp District right in the heart of downtown San Diego.  You feel like you're stepping back in time when you walk through the doors away from the hustle and bustle of the city life surrounding you.  The entire place just screams "grand" and "historic".  The service is five star all the way and restaurants and entertainment are just a few steps away.
Royal Sonesta (New Orleans, LA) – If you're in New Orleans there's only one place to stay – right on Bourbon Street in the heart of the French Quarter.  It's far from the most modern, most hip or trendiest hotel on my list, but it's one I've really enjoyed over the years.  The hotel has a very old time traditional New Orleans feel to it, complete with the old style message boxes located behind the check-in desk.  My only cautionary tale with this property – if you're expecting to get a good nights sleep, politely decline a room with a balcony overlooking Bourbon Street.  If you're in town with friends however, live it up and enjoy watching the crazy parade go by from the comfort of your balcony overlooking Bourbon Street below.
The Prescott (San Francisco, CA) – Located right near the heart of Union Square, The Prescott Hotel is a charming property that's a blast from the past compared with all the modern mega chain hotels in the area.  Afternoon cookies in the lobby are a yummy treat at the end of a busy day.  The gentle creaking sound of the hardwood floors under your feet in the rooms gives a feeling that you're staying in a place with a rich history.
Driskill Hotel (Austin, TX) – Yet another Austin favorite, this one is located right in the heart of the music capital of the world.  The Driskill is a historic hotel that makes you feel like you're staying somewhere special from the moment you arrive.  The property is located right on 6th Street where you can find every type of music imaginable seven nights a week.  There's a very comfortable lounge area to relax and spend time with friends chatting the night away if you're looking for something low key than another night out on the town.
Hotel Derek (Houston, TX) – While Houston is a big, bustling city with plenty of impersonal chain hotels, the Hotel Derrek sits in the center of it all with a unique look and feel.  The lobby and lounge feature overstuffed chairs and couches that are perfect for relaxing after a day of work in the city.  There's a cool feel to the place, a mix of ultra modern along with traditional comfort.
Hutton Hotel (Nashville, TN) – If you're looking for a modern hotel experience in downtown Nashville, look no further than the Hutton Hotel.  Every aspect of this hotel screams techology.  Even the showers are high tech – you set your desired temperature on a digital screen for the perfect shower temperature every time.  Downtown music venues are just a short cab ride away.
I hope you've enjoyed my guide and embrace the opportunity to stay at some of these great hotels during your own travels.  Life is all about the experiences you have along the way.
Live life to the fullest and enjoy every second of the ride!