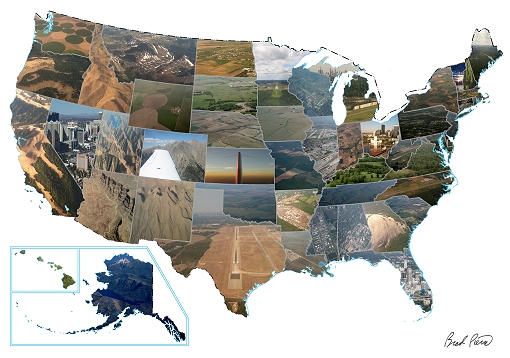 Click the image above or click here for a larger version version of my flight map.
It's official, I've now landed a Cirrus Aircraft in ALL 50 STATES in the USA!  This bucket list adventure has been years in the making, beginning with my first successful touchdown during factory training in Duluth, Minnesota.  Nearly 2,000 landings later, it's fitting to have made my final victory landing in paradise – Maui, Hawaii.
When I started this adventure, the goal of landing in all 50 states wasn't even on my radar.  I was a rookie pilot transitioning from a Cessna 172SP which I hadn't even flown outside my home state of Florida.  I was accustomed to flying low and slow and didn't even realize all that I was missing.  Everything changed when I took delivery of a new Cirrus SR22 Aircraft in 2005.  My new aircraft was a stark contrast to my Cessna – it was modern, sleek and had speeds which made it ideal for longer distance travel.  Even the tail number was a perfect fit, N225HL, named after my twin boys Hunter and Landon who were born on 2/25.  As I departed Duluth with a safety pilot instructor by my side, I didn't realize it at the time, but I was about to discover the joy of flying our great country.
Initially, I flew my Cirrus around the State of Florida just as I'd always done with other aircraft.  Then one day I had a conference in Atlanta.  I had ample time to make the trip, so I figured, why not take the Cirrus?  As I touched down in Atlanta, I glanced at my watch and realized my planned commercial flight would just be leaving the gate for departure, yet I was already safely on the ground at my destination – Eureka!  I'd discovered a whole new way to travel that would make commercial air travel a thing of the past.  I wasn't just flying an airplane, I was flying a time machine that would allow me to outperform my competitors by effectively adding more useful hours each day.  As more business opportunities arose, I completed more and more flights in my Cirrus.  Soon I'd traveled to Chicago, Nashville, Washington D.C., New Orleans, San Antonio and more.  I was adding states to my list virtually as fast as I could fly to each of them.  After about a dozen states were completed, I downloaded one of those old RV camper maps, coloring each state green upon successfully landing.  It was a fun visualization of all the places where I'd flown to in my airplane.
Over the next few years, I continued to use my Cirrus for trips on a weekly basis – yet, my map was completely lopsided.  Nearly the entire Eastern half of the US had been flown while the Western half of the US remained blindingly white (unlanded).  The Rocky Mountains created a formidable barrier.  Along came my next plane, a brand new Cirrus Turbo SR22 Aircraft with a beautiful red and white paint job and all the bells and whistles.  The Cirrus sales rep asked how important it was to transfer my N225HL tail number to my new aircraft – I assured him this was a "must have" item – the adventurous spirit of my two little buddies was definitely going to be accompanying me every step of the way.  I watched in awe as my new and improved Cirrus rolled off the production line to greet me.  My new aircraft had FIKI (flight into known icing), built-in oxygen (for higher altitude flying), an Enhanced Vision System (EVS – night vision), the Garmin Perspective Avionics Suite (including synthetic vision to visualize terrain) – and of course, a turbo normalized engine which would provide the high performance needed for safe mountain flying.  Speed is life and I was now well equipped to utilize my bird as a true cross-country business machine.
While I had the aircraft performance needed to cross the great Rocky Mountains, I lacked the knowledge, skill and confidence to do so safely.  So, through the recommendations of good friends, I engaged the great folks at Independence Aviation in Centennial, Colorado (KAPA – Denver area) to begin mountain flight training.  A whole new world opened up immediately as I learned all about mountain flying operations including the unique wind and weather patterns that are so dramatically different than what occurs while flying the flatland's.  I quickly became comfortable at the higher altitudes required to safely cross the highest of peaks and the view out the window was utterly amazing.  My first trip beyond the mountains took me to Oakland, California right outside of San Francisco.  I remember looking at my map upon touchdown and realized I'd just flown from Florida to California, my first true cross-country mission.  The sense of accomplishment I felt filled my body with a sense of pride that could only by rivaled by my first solo flight in an airplane roughly 20 years ago.
In the years that followed, the states naturally piled up one after the another while doing extensive business travel – or as I like to call it, conducting "Business at the Speed of Flight".  I was bouncing between Florida and Illinois, Texas and Arizona, Colorado and California.  Before I knew it, I'd traveled to 42 states just by sheer coincidence, still not having a set goal of landing in all 50 states.  Flying from New York to Florida late one afternoon, the inspiration hit me, and I set a personal goal of landing in every state in America.  Delaware was one state in particular which had eluded me simply because I hadn't had a business reason to land there… yet.  One day the opportunity presented itself and on my my inbound leg, the air traffic controller was especially relaxed and chatty with folks on the frequency.  I casually mentioned this landing being another notch on my 50 state goal and the radio quickly came to life with a commercial airline pilot chiming in.  He keyed up the mic and stated, "Southwest 123, with request".  When the controller told him to go ahead with his request, the airline pilot remarked, "Yes, Sir.  Southwest 123 would like that Cirrus guy's flight plan instead of ours – it sounds like a whole lot more fun!".  Laughter followed and was one of those moments that made me realize the special and unique nature of what I was accomplishing.
I'd finally landed in all 48 states in the Continental United States and decided to turn my dull solid green map into something more vivid to celebrate the victory.  I painstakingly drudged through my vast collection of airborne photographs to create a map made of pictures, memories from my time soaring above each state across the country.  The end result was beautiful, truly a work of art.  On a number of occasions when I showed it to be people, I was asked the question, "What about Alaska and Hawaii?"  This question echoed in my own head as well… 48 states down, yet my journey wasn't truly complete.  I'd accomplished flying to more places than most pilots even dream of visiting, but I don't do anything in life only 96% of the way… hitting the 100% mark was the only viable option.  In early 2013, Alaska was checked off my list as I completed Brad's Mini Flying Wild Alaska Adventure, which I wrote about in a prior blog post.  Nearly two years later, I safely touched down among the majestic scenery of Hawaii to claim victory landing in all 50 states.
My 50 state airplane adventure has been nothing short of amazing.  As I sit back to reflect and write this post today, I realize just how fortunate I've been to be able to accomplish such a goal.  There aren't many people in this country who've visited all 50 states, and only a tiny fraction of those have had the joy of flying over and landing in every single one of them.  We live in an absolutely beautiful country, from the lush green trees covering the Eastern US to the well manicured farmland in the Midwest.  Further West introduces the snow capped mountains in the Central US which lead down to the perfectly chiseled rocks that make up the Southwest US.  Following the breathtaking Grand Canyon leads to the West coast where the land reaches the deep blue ocean.  Further North into Alaska is remote and gorgeous, and Hawaii is home to a paradise like no other place on earth.  Every bit of our country is amazing in its' own unique way, and there's no better way to see it than from the cockpit of a light aircraft soaring above this great land.  People have asked which state I liked best, that one is easy.  My favorite flying spot in the country is certainly Colorado – with its' mountain peaks and enchanting valleys, it simply can't be beat.  Alaska and Hawaii are both a close second and third place, but Colorado has won over my heart with its' jaw-dropping views of the mountains throughout every season of the year.
It's been an incredible journey flying and landing a Cirrus in all 50 states across America.  Despite traveling to many states dozens of times, I have to say, the view never gets old.  Each flight, I still discover new sights, have new experiences and am reminded of how fortunate I am for the opportunity to experience flying throughout the country.  The places I've gone, the people I've met, the things that I've done – I've cherished every single moment of the incredible adventure.  I'm elated to be living the Cirrus Life as I embrace my personal mantra of "Living life to the fullest and enjoying every second of the ride!"