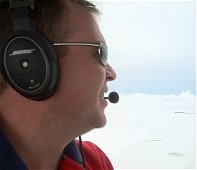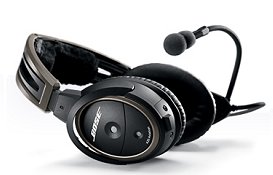 I literally spend hundreds of hours a year in the cockpit of my Turbo Cirrus SR22 Aircraft, so using a good quiet headset makes my frequent flights even more enjoyable.  I've always really liked my Bose Aviation X headsets which I purchased with my first Cirrus SR22 Aircraft – they were revolutionary, adapting world-class noise cancelling technology that wasn't available in prior headsets I've owned.  Little did I know, there was an even better, quieter, more comfortable headset in my future…
Recently at an industry event, some great friends presented me with a surprise gift that was just perfect:  Not only one, but TWO pairs of Bose A20 Aviation Headsets!  Wow!  I literally turned red in the face with the shock of receiving such an extraordinary gift.  I was so appreciative that I could barely even express my thanks and gratitude in words.  Even though I had already flown many hours that day, I practically wanted to race back to the airport to try them out that very moment.  Needless to say, I absolutely loved the gift and am very thankful for their generosity!
As I climbed into the cockpit of my Cirrus to begin my journey back to Orlando several days later, I put on my new Bose A20 headset for the first time.  It fit like a glove!  They've re-designed the spring mechanism so the headset feels like it's floating on your head, rather than the clamping feeling of my prior Bose X headset.  The ear cushions were also noticeably more comfortable, which have also been re-designed and are slightly larger to cover your entire ear.  The new headset felt great, but just how much better was it than my prior Bose X headset?  Once I leveled off at a safe altitude, I decided to do some real-world testing.  I plugged my prior Bose X headset into one intercom jack, while my new Bose A20 headset was plugged into another jack.  I swapped back and fourth between the headsets throughout my journey.  The noise reduction difference was amazing!  Bose has really raised the bar with noise cancelling technology that's beyond what I even thought was possible.  Even though I've always thought my Bose X headset was great, my new Bose A20 headset blows it away in terms of noise reduction and comfort.
Aside from the many improvements I've already mentioned, there are also some additional noteworthy features which have been integrated into the new Bose A20 headset.  The first is Bluetooth technology which allows the headset to be paired with a Bluetooth enabled cellphone such as an iPhone.  Of course you're not going to be using your phone at altitude, but the Bluetooth connectivity allows for you to have a crystal clear telephone conversation through your headset while on the ground.  This is especially useful when calling for clearances at uncontrolled airports where radio communications are poor or non-existent.  An additional notable feature is the inclusion of an auxiliary input port which runs directly into the headset itself.  This allows you to hook up an iPhone, iPod, or other device to route music and/or other audio directly into your headset without disturbing other passengers.  There's even a user selectable switch that allows the pilot to select whether the auxiliary input audio is muted or continues playing during times when activity occurs on the aircraft radio.  Bose truly thought of everything when they created these headsets!
While I was excited to write this review immediately after I first started using my new headsets, I purposefully waited until now to do so.  I wanted to get plenty of real-world experience to make a solid determination of their quality and effectiveness before hastily proclaiming their greatness.  I went about doing my business – taking my phenomenal Turbo Cirrus SR22 Aircraft on trip after trip, working to grow my business, as I've done for the past several years.  I flew short legs, I flew long legs, and I flew everything in-between.  I flew completely across the country, over the heights of the Rocky Mountains to the depths of sea level in Louisiana.  Needless to say, in a very short period of time, I was able to log many hours of flight time in real-world conditions using my new headsets.  The verdict?  I'm sure it's quiet clear by now, but just in case you missed it, they're amazing!  I fly the best single engine aircraft in the world – the Turbo Cirrus SR22 Aircraft – I can now confidently say that it's equipped with the best headsets in the world – my new Bose A20 Aviation Headsets.
I'd like to once again thank my good friends who surprised and delighted me in such an wonderful way.  My new headsets were the perfect gift which I'll enjoy using for many years to come as I continue my journey soaring through the blue skies above.
Better comfort, better clarity, better noise cancellation, better features, better everything, my new Bose A20 Aviation Headsets are simply FANTASTIC!