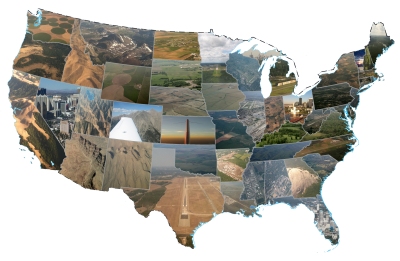 Click the image above or click here for a larger version version of my flight map.
I've recently landed my Turbo Cirrus SR22 Aircraft in all 48 lower United States which was quite an amazing adventure.  Along the way I attended countless business meetings, conferences and events… and I had an absolutely incredible time every step of the way!  There is simply no better, safer, or more comfortable way to travel and see the country than from a state-of-the-art general aviation aircraft.  Those of you who've followed my progression from a rookie pilot who did touch-and-goes on the weekends to an avid coast-to-coast flyer have likely heard me ask the rhetorical question, "Where can you find a product that changes your life?  That truly changes every aspect of what you do and who you are?".  It's an easy thing to come up with a memorable catchphrase, yet it's another thing entirely to actually experience the benefits of it.  The Cirrus Aircraft is that product and it truly is phenomenal!  There's no doubt in my mind if it weren't for this airplane I would have never been able to see so many amazing sights or accomplish so many great things throughout the country.  I've built stronger relationships by being face-to-face with my customers and suppliers, grown my business significantly, lived a better and more fulfilling personal life and have had the pleasure of waking up each morning loving what I do.  It truly feel like I'm living a dream each and every time I take to the skies and experience the joy of flight!
I captured my journey in photographs along the way which I've put into the collage you see above.  I tried to incorporate unique elements into a number of the states from the images taken from high above in my Cirrus.  Feel free to explore the large version and you'll likely recognize a few spots.  You can view various photo sizes of my flight map below (an original 61mb high resolution version is also available upon request):
Small (63k)
Medium (338k)
Large (7.6mb)
While this has been an great adventure, the most spectacular part of it all is I get to visit many of these places again and again, each time being just as magnificent as the last.  Thank you to all of my customers, suppliers, family, friends and co-workers who have been with me along the way.  Without you, and without the wonderful people at Cirrus Aircraft, my spectacular maintenance team at Air Orlando Maintenance, the great folks at NBAA and AOPA who work tirelessly to represent the positive impact of general aviation, and the friendly faces at Showalter Flying Service who always welcome me home with a smile after each of my journeys, none of this would have been possible.  I'm certainly very grateful for the opportunity I've been given and cherish every memory made along the way.