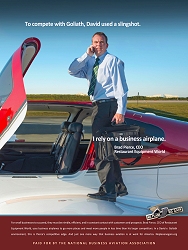 "To compete with Goliath, David used a slingshot. I rely on a business airplane." – Brad Pierce
I'm currently participating in the National Business Aviation Association's (NBAA) No Plane No Gain advertising campaign. It's truly been an honor to be included in this fantastic initiative which highlights the vital role business aviation plays everyday across our great nation. The advertising campaign features well known individuals such as Warren Buffet, Arnold Palmer, and Neil Armstrong, along with several regular everyday folks like myself who use business aviation effectively in our businesses.
While I run a small business based in Orlando, Florida, my customers are located throughout the country. At a time when e-mail, instant messaging, and video chats have become the norm, it's more important than ever that I meet with my customers face-to-face. The value of a firm handshake and being able to look valued customers and vendor partners in the eye has never been greater than now. There is no substitute when you care about your customers and want to give them the best service imaginable. In order to compete and succeed against larger competitors, we need to be laser-focused, nimble and seize opportunities without the typical delays and inefficiencies of commercial airline travel. The best tool in my arsenal for competing effectively is my Cirrus SR22 Turbo Aircraft. It allows us to quickly, safely and efficiently get more business done in less time and continually helps to grow my business. More business means more job creation, more growth for my employees, and the ability to deliver world class service to my customers. Business aviation works for my company, my employees and my customers. Business aviation works for America.
View Brad Pierce's NBAA No Plane No Gain Print Advertisement:   PDF Version – JPG Version
You can also view the entire collection of No Plane No Gain Print Advertisements by visiting NBAA's No Plane No Gain website.
Several of these ads will also be published and distributed in various print media publications including The Wall Street Journal, USA Today, Roll Call, The Hill and Politico.
The No Plane No Gain advertising campaign is a a joint undertaking of the National Business Aviation Association (NBAA) and the General Aviation Manufacturers Association (GAMA).