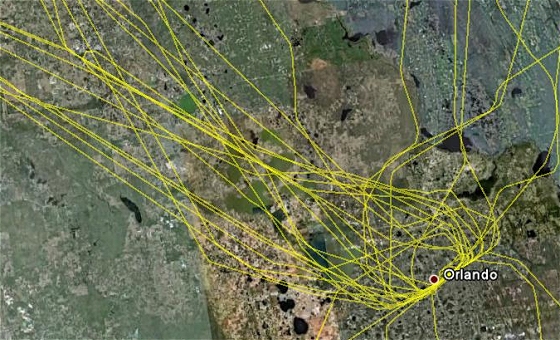 There's rarely a day that goes by lately where someone doesn't ask me where I've been since they haven't heard from me lately.  People call, they write, they even stop into my office for a quick chat – yet, I seem to be missing.  Well, the picture above tells the story better than words alone could ever describe – I've been flying – EVERYWHERE!  This is the flight tracking map of my flights in my Cirrus SR22 Turbo aircraft over the past few weeks alone into and out of the Orlando area.   Each of the yellow lines is the actual flight path I flew my plane during an approach or departure from the area.  I've literally flown dozens of flights to dozens of cities in states throughout the country – from the northern states to the southern islands, from the east coast to the west coast and everywhere in-between.  At a time when many people are sitting on the porch hoping for "better days to come", I'm out there making things happen trying to brighten the future for our business.  I've visited existing customers, prospective customers, trade shows and have attended multiple conferences.  I've flown through rain, snow, clouds, haze, icing conditions and fortunately have had plenty of sunshine along the way as well which always brightens my day – literally and figuratively.  I've taken off before the crack of dawn to see the sunrise from the air (incredible) and have flown all day long to see the sunset from the air as well (even more incredible).  I've flown along a whole lot of coastal areas, passing over oceans, lakes and rivers, glided along above the flatlands and more farmland than I could ever imagine, watched the dense brush of forests pass under the wings, looked out the window at the desolation of desert and ranch land below with no one in sight for hundreds of miles, flown over canyons and amazing rock formations, and have even seen the magnificent sight looking out the window as I flew past snow covered mountain tops and down into valleys.  I've had smooth landings that I greased with ease, not-so-smooth landings in much more challenging conditions with gusty winds and wind shear, landings in snow, landings in rain and landings with ice still firmly adhered to the wing tips and other unprotected surfaces from flights in the icy clouds above.  I've landed at airports with runway elevations as low as -1.7 feet (yes, that is a negative), and as high as 4,456 feet – the power of the humming engine in my Cirrus SR22 Turbo aircraft handled each of those scenarios flawlessly.  I've done more approaches to minimums in low clouds than in my previous 13+ years of flying – sometimes being the lone plane coming into a small field with no control tower, and other times flying a parallel approach into a busy airport with a 767 along side of me gliding through the thick clouds to a smooth and safe landing below.  I've flown into small back-woods fields, military bases, islands, small towns, large cities, and into some of the busiest international airports in the country.  Over the past few weeks, I've experienced it all – virtually every condition known to flying.  I know I've certainly become an even much better pilot because of these experiences.
There's no doubt I've been busy beyond belief, but it's also been a spectacular journey that's enabled me to see some of the most beautiful landscape this country has to offer.  And the best part of it all, I've been working to generate sales and new opportunities for our business the entire time.  How cool is that?  Those who know me have often heard me refer how much my Cirrus Aircraft has changed my life – truly every aspect of who I am and what I do – this post is undeniable proof of that statement.  While I used to cringe at the through of extensive travel, I now actually look forward to it – after all, getting there and back again safely in the comfort of a world-class aircraft is often the most enjoyable part of the trip.
So, if you're wondering where in the world I'm at, you now have the key – just look toward the skies above – you're likely to see me passing overhead, smiling the entire time, as I soar above the incredible landscape below embarking on my next adventure.