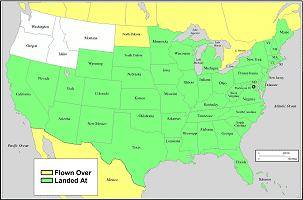 Update:  I've completed my coast-to-coast adventure!  There's an new blog post available by clicking here which will take you to a flight map I created using pictures from each of the lower 48 states.  It also includes my commentary on Brad's Flying Adventure Across America.

Here's my original posting of this blog entry:
Anyone who knows me knows that I love my Cirrus!  It's been an incredible business tool which has taken my company to new heights, but it's also provided an amazing view of our country along the way.  I recently realized that an upcoming business trip out to the far Northwest United States in just a few very short weeks will conclude my journey to all 48 continental states.  I've certainly met some great people along the way and have had some incredible adventures.  My Cirrus has not only made these trips possible, but has also made them extremely comfortable and enjoyable beyond what words alone can describe.  I could go into more details, but I'll save those for my next posting when all 48 are inked in my logbook.  My goal is in sight, my Cirrus is fueled and ready to go.  Soon it will be time to lift off for a slew of successful business meetings and completion of my flight map, reminding me of how fortunate I've been to have such an amazing experience.
Feel free to click on the map above to make it larger.